Joe Gibbs - Scorchers From The Mighty Two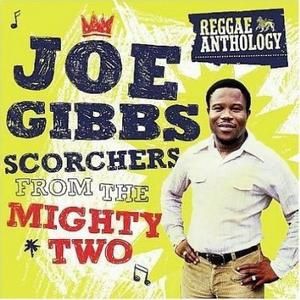 Depuis la disparition du vieux

Joe Gibbs

, un nombre oncroyable de compilations sont sorties sur ses productions. Celle-ci est une des plus intéressantes sur ce grand producteur. En même temps,

VP Records

possède un catalogue vertigineux et peut nous proposer des rétrospectives très riches. Celle-ci en fait partie. Elle comprends les productions qui ont fait la gloire de

Joe Gibbs

de la mi 70's à la fin des 80's en deux cd. Vous pourrez retrouver les plus gros succès du groupe

Culture

évidement, mais aussi

Dennis Brown, Gregory Isaacs, Dennis Brown, Junior Murvin, Cornell Campbell, Mighty Diamonds, Junior Byles, Prince Allah, George Nooks, Sylford Walker, Jacob Miller, Glen Washington, Max Romeo, Black Uhuru, Barrington Levy, Althea & Donna, JC Lodge, Trinity, Prince Far I, Eek-A-Mouse, Shorty The President, Naggo Norris, Ruddy Thomas, Sammy Dread

ou

Enos MacLeod

. De quoi se régaler !